Lashings of Fun Workshop 27/2/2016
*Great Day. Three great techniques learnt (mastery to come hopefully) . Lots of ideas for further experimentation! Thanks Jo. Mary M (VIC)
*Thanks Jo! I'm going to get heaps of use out of what I learned today. Michelle M (VIC)
* Thank you Jo for allowing me to attend your workshop. It was a great experience and I will use what you have taught for many applications, my mind is buzzing. Hope to catch up again soon. Jacqui B (TAS)
*Very well supplied, excellent quantity and quality. Lovely studio. Great people- well recommended.
* Very inspirational workshop- Great company with women artists from so many genres. With sincere thanks. Gail F (VIC)
* Thanks so much for this well thought out and prepared workshop. I enjoyed it so much, and ideas of how to use the skills I learned today are jumping around in my head. Colleen B.
....and after the workshop....
I finished the work started at the workshop, did another cinnamon stick one and embellished them both . I also finished the winnowing tray,and altered the shape and added some beads . I then did the long colourful one using the second technique, it looks good between a couple of my colourful pastels. Enjoyed the workshop, learnt heaps , and have passed your name onto our local group.  Colleen B.
Lilydale Library Conquering Cordyline 2016
         
Warratina Lavender Farm Workshop 6/12/2015
*I had a fantastic time today, I have learnt so much. Jo is a great teacher with so much knowledge on the subject. Vicki S (VIC)
I really enjoyed the workshop, very relaxing and interesting. Lots of ideas to take away and Jo is very patient and a good teacher. Thanks so much. Jane J (VIC)
* Lovely afternoon well worth attending. Teaching informal and friendly. Plenty of resources available. Thank you. Elizabeth E. (VIC)
* Had a wonderful afternoon. Jo is very patient and very easy to listen to. Beign a first time lavender weaver, a very happy interesting time which I could do again any time. Jo S (VIC)
*An enjoyable afternoon being creative with natural materials, and look forward to doing and learning more. Christine P. (VIC)
National Lavender growers Conference 15/4/2015
*Inspiringly creative. How useful and attractive 'cast aways' can be. M Bilney SA
*A very interesting workshop and very special to come away with some items made in a very productive and pleasant hour.
A Young Qld
*Great teacher 'Hands On' Fantastic. I made witches brooms!
M Clark
*Your teaching has inspired me along another creative path. It's wonderful to have completed a project at the end of a lesson.
R Collie Vic
*Learning in a small group helped immensely. Jo was patient in teaching the less nimble of us. She explained the basics with diagrams. A worthwhile class for those of us stressed with life. Very mediative to do.
Anon. Vic
*Great instructions, clean directions, inspiration abounds from amazing teaching and your examples. You showed us everything is possible. Thank you.
Anon. Vic.
Lashings of Fun: Mooroolbark Library 2016
Handweavers and Spinners Guild Summer School 2017
Spiral coiling in Cordyline with Polymer Clay base.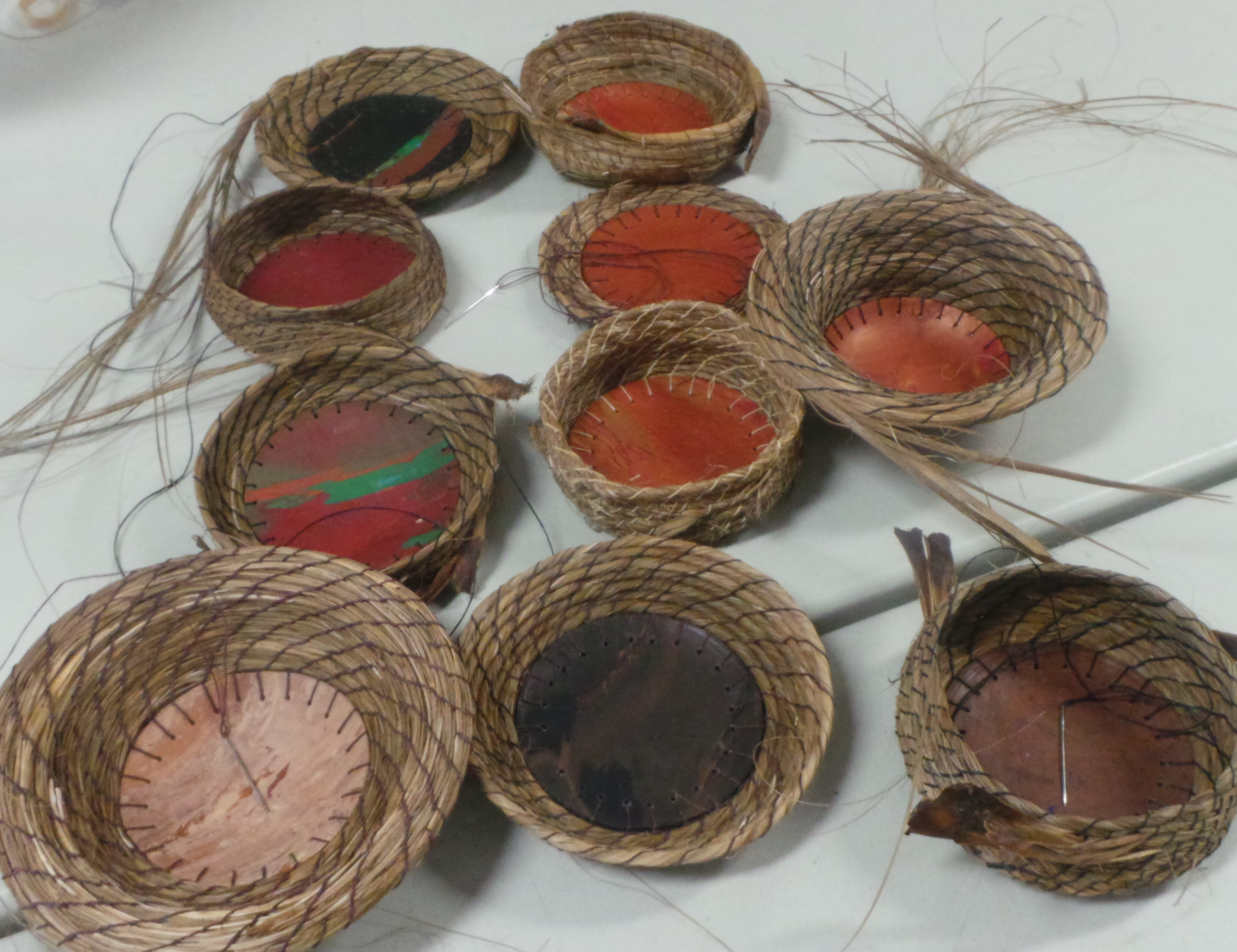 Great class with a very generous tutor. All the materials were provided and it was of good quality, with choice and plenty of materials. I'm learning about basketry and this added much valuable knowledge to my journey. Teresa B
Learning about the types of plants that could be used for this method so that experimenting can be done in the future. Also the many possibilities of a base or starting point. The atmosphere was friendly and people present were happy to share their related experiences. Gail Q
I really liked the images you had to show on your tablet to help with identifying various plants. It was valuable and clarified which was really important. There was structure in technique but encouragement to experiment. Thankyou. Gail Q